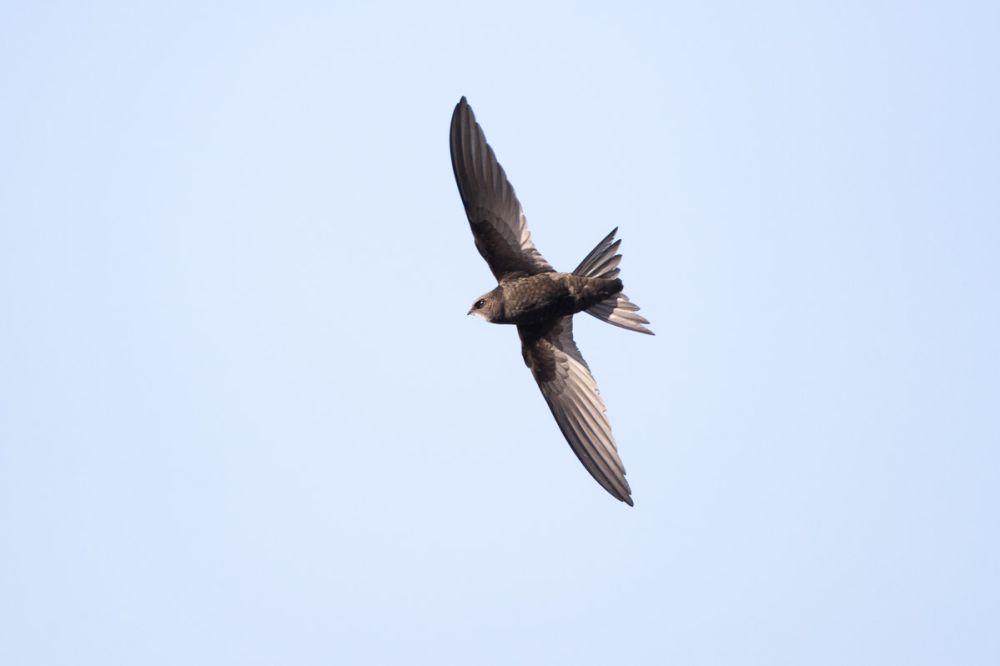 Stepping up for Stratford's swifts
Andy Waters gives swifts a helping hand.
Main image by Ashley Grove, ashleygrovewildimages
Tired, hot and flustered after a long day's work, reluctantly I bent down to remove dog mess from the pavement outside my cottage. Who wouldn't do their neighbourly duty? But instead of a canine present I found baking in the sun an adult swift on its belly, wings half spread and panting in the scorching heat.
The swift was scooped up immediately and placed on a tea towel in a Tupperware box on my kitchen table, the coolest place in the house. There was an air of patience and stoicism about the swift: the tiny bird looking around, seemingly unphased by the whole experience.
I encouraged the swift to sip water from a tea spoon and after a night's rest to sit upright on my finger – but there was no urgency to fly. In the garden, the swift simply looked around and despite tilting my hand, decided not to join its friends screaming above.
I decided that the bird would have to go to a vet but I needed to complete an hour's work before setting off. Entering my first floor study, I placed the swift on the windowsill and opened the window. Without a moment's hesitation, the swift walked to the ledge and flew high into the summer sky.
swifts come to the UK to breed each year, image by Ashley Grove
Why are swifts disappearing?
Swifts build small nests on flat bricks, wood or insulation within roofs. The nest is simple and made from materials that they collect on the wing, such as fine grasses and feathers. They return each year to their traditional, small access holes behind gutters and under tiles and fascia boards. It's thought that the loss of this access is one reason for swifts declining by more than 50% between 1995 and 2016. The drive to demolish old buildings and seal up and insulate roof spaces means that birds like swifts, house sparrows and starlings have less access to the spaces they need to breed.
The decline of flying insects and changes in the management of landscapes across swifts' migration routes Europe and Africa are likely to be other reasons for their decline but for most of us, protecting existing swift nests and helping them access new suitable sites is the best starting point for helping them.
That brief encounter triggered a chain of events leading to increased swift conservation in Stratford-upon-Avon.
Six local swift enthusiasts set off one cold June evening in 2019 to celebrate and survey the town's swifts. And despite freezing and preferring to be home, we recorded our first nest site together in Ely Street. A nest neatly tucked away inside a decorative fascia board.
Traditional nest sites will be used each year so are vital for breeding success.
The following summer the number of nests recorded reached 15. And this summer around 40 nests are known to be active in the town. Interestingly, most of these nests are facing between north and east – helpful local evidence to confirm advice given by conservationists.
The number of folks taking action for swifts is increasing by the week, with one community building and installing 10 boxes earlier this summer to build resilience for their colony of around 12 pairs nesting along the street.
Installing boxes can provide an alternative nest site to holes in eves.
Property owners are seeking advice about how they can help swifts from installing boxes to simply protecting the nest sites already being used.
And last week to celebrate Swift Awareness Week,  we enjoyed an evening of wine, cake, a talk and a stroll to celebrate these incredible and life-affirming creatures. More than 40 people attended and enjoyed a red arrows display from the local swifts, inspiring more action and passion for wildlife.
My hope is that this little, informal project will build soon into a formal swift group which will have the time, skills and passion to secure funding and work proactively with developers, planners and residents to protect the birds we have and most importantly create the homes they need to build their population.
A chick looking out from a 'swift brick' installed during construction of a new building. (c)Andy Purcell – Focus On Wildlife
What can I do to help?
Here are three things you can do straight away:
Buy a map of your village, town or city and start a survey of nesting swifts. It's great fun and the data essential for conserving existing nests and identifying new sites. You could be gathering information from residents and wildlife enthusiasts throughout the winter and when the swifts arrive next May, get out and find where they are entering buildings. This data will help you discuss swift conservation with home and business owners, convincing them to protect the access holes and nests if building works are planned
High quality swift box by Wild Shack
Install swift boxes. Nest boxes designed for swifts are available from organisations like the RSPB, Wildlife Trusts and Swift Conservation. Boxes should be installed at least four metres high and ideally on a wall facing between north and east. For most homes that means just under the guttering. Your chances of attracting swifts are improved by planning a cd of swift attraction calls - again, available via the Swift Conservation. If swifts don't take up residency, house sparrows often do and they need as much help;
Fund raising and community involvement - have fun! Hold survey evenings (summer), a 'swift drink' coffee morning, workshop to build nest boxes, sponsored event. Conserving birds brings people and communities together. We all have different skills so make the most of each persons interests, experience and enthusiasm. Work as a team.
All of us can make a difference for nature. You may not find a swift on the pavement but you can show somebody a butterfly, install a nest box for a neighbour or join a local conservation group. That first step is the most important.
Find out more
Links