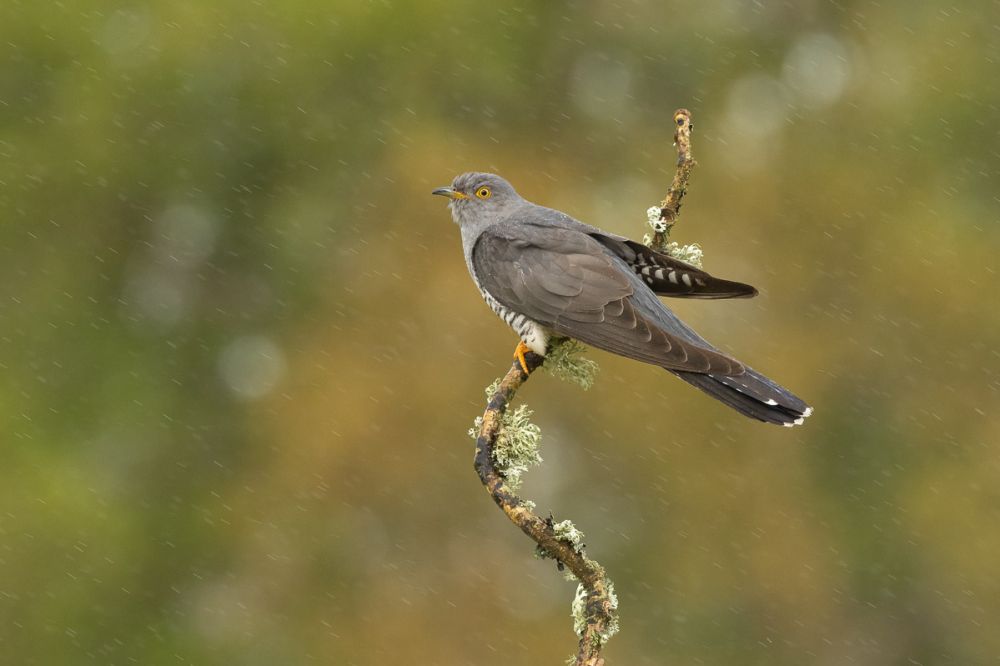 Photographing Colin the Cuckoo at Thursley Common
After a few days in Dorset exploring wildlife on the heaths I made a last minute decision to visit the famous Colin in Thursley Common.
Colin has become perhaps the most photographed cuckoo in the UK having become habituated to photographers and associated easy food. Many photographers both amateur and professional have travelled for miles to see this charismatic bird and images of him are all over social media #colinthecuckoo
I had seen photos on twitter of many photographers all in an arc looking at the perches waiting for Colin. I'd also heard that he could sometimes take hours to arrive or even not show at all. I don't really like hanging around in crowds and this would have put me off the travel but as I was passing (sort of!) and there was the possibility of photographing the confiding woodlarks I decided to call in. Woodlarks are usually shy birds that I have never photographed so the opportunity to get my lens on them was enough.
Two branches erected in the ground showed me I was in the right place.
Arriving at Thursley with a couple of hours of light left I walked to reckie the arena. I knew the rough area as Oliver had visited previously and gave me some advice. On arrival in the open meadow the lonely two perches were then the obvious marker. I was a little suprised to see no photographers but was happy to sit and have a look around.
Within minutes a redstart landed on the nearest perch with an expectant look in my direction, I realised then that I had not brought any mealworms with me and made a note to get to the shops later! It did seem though that there were still some on the ground though as blackbirds and chaffinches seemed to be finding them so obviously earlier in the day others had remembered.
Woodlarks came within a few feet!
To my delight the woodlarks arrived and as I was alone and sitting quietly they began to search the area nearby. To get the low angle I wanted I lay on the ground and they came even closer, two woodlarks within a few feet...amazing, thank you Colin!
Getting down to raise the quality of your wildlife photography
As the light faded I made my way out of the park and wondered where I was going to get mealworms on a Sunday evening!
5.30am and I was back at the common for first light. Unsurprisingly the park was deserted and I was able to hear dartford warbler calling across the gorse. On arrival at the clearing I rearranged the perches with some smaller ones that I felt would be more natural than the chunky branches from the previous day. Had anyone else been there I probably would have felt a bit rude doing this but as the first one there I thought that I had the right to do some stick arranging!
The stunning male redstart was the first to try out the new perches.
First to arrive was the redstart who again was disappointed at the lack of food. I had driven to several all night shops but alas had come back empty handed. He posed for a short while though and it was great to get more images of another scarce species.
At around 7am another photographer appeared, I assumed he would be the first of many but in the next three hours there was just the two of us. This turned out to be a bonus as he was a great companion and the time flew by as we put the world to rights. James Leyland (check out his stunning wildlife images on Instagram!) was local and had photographed Colin many times before, he explained that he had known him come for the last five years. He added that others had known him a couple of years longer so Colin could be eight years old. The oldest recorded cuckoo in the UK from BTO records was less than seven years old so if he really has been coming that long he might be a record breaker!
Finally at 7:15am the unmistakable call of the male cuckoo announced the imminent arrival of the star performer. True to form Colin flew straight to the new perches and began to survey the arena and the awaiting paparazzi. What a beautiful bird he is too, in immaculate condition considering his advanced years. To enjoy close views and be trusted by this wild bird was a privilege. This made it even more guilt inducing that neither of us had kept up our end of the photographer-cuckoo deal and brought food (Jame's local shop had sold out!). For the next 40 minutes or so Colin moved from perch to perch occasionally dropping onto the floor. At one stage he was so close to me that I could not fit him all in the frame.
The prolonged posing meant that I could get a variety of shots in different positions and with varied backgrounds. When the light drizzle turned to heavy rain this provided an opportunity to slow the shutter speed down and try to portray the weather, in the end providing me with my favourite images.
In hindsight I should have swapped to a zoom lens but caught in the moment and perhaps with a bit of tunnel vision I carried on with the fixed lens accumulating some lovely portraits making sure that I used portrait as well as landscape aspect. I did have the presence of mind to grab some video though so that was good.
The angry - guilt inducing - look!
With one last angry look Colin headed off to find wild food and it was time for my breakfast too.
A great encounter and, despite my initial reluctance, one that I would be keen to repeat. If anyone reading this does visit Colin themselves though please do me a favour and give him an extra helping of mealworms from me!!
Find out more about cuckoos