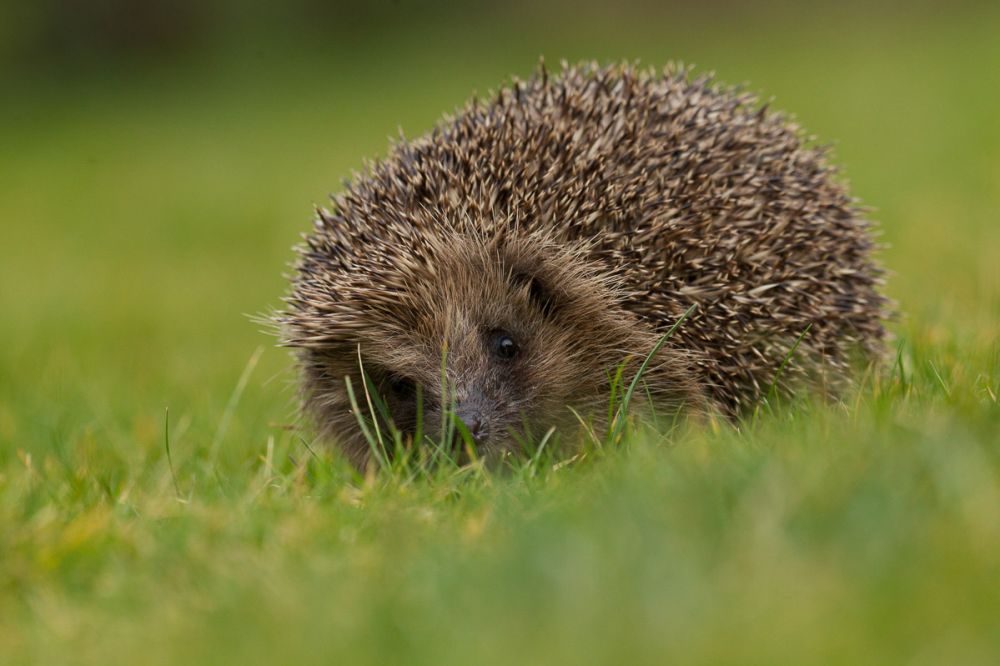 Getting down to raise the quality of your wildlife photography
Getting down to the level of your subject will hugely impact your final photo, Nick Martin gives us the low down.
Why get down low?
By getting down to the level of your subject you can greatly improve your images for a variety of reasons.
The new angle will ensure that you are getting the full view of your subject. Generally eyes are on the side of most species so assuming that you are not photographing a deer or bird in a tree that is already at eye level you will need to get down to the same plane of view. It would be unusual (but not unknown) for the best angle to be looking down and this rule even extends into flowers and fungi. If you are not getting dirty knees you're missing out!
A simple repositioning of the camera with this kookaburrah makes a dramatic change to the image despite all other variables remaining unchanged.
By being closer to the ground you can more easily use foreground features to frame your subject. Any ground or vegetation that is beyond your subject will also be further away so will be thrown out of focus again framing your shot.
S
hooting at ground level and through the grass results in a softly framed image of this buzzard.

Being closer to the ground will inevitably create a lower profile of you and may allow a closer approach to a shy subject. By remaining low too some species will approach as was the case with these sanderlings being pushed up the beach by the incoming tide.
And finally and maybe most importantly the low angle will provide a greatly more intimate view and more connection with the subject.
How to get that low angle effectively 
For most of my wildlife photography I use a tripod to hold my camera steady and with longer telephoto lenses this is a good habit to stick to. However to get low whilst benefiting from a tripod you will need one that is fit for purpose. Some tripods have central columns that rise up to provide extra height but when the legs are at their minimum height this same column sits below the head preventing it from being lowered further. Some legs also have braces that hold them together again preventing them from splaying fully.
With this in mind it is vital that when choosing a tripod you look for one where the column is removable (some even have an option to have it held horizontally) and the legs splay to be flat on the ground. This way the camera is only raised off the ground by the height of the mount and you can benefit from a stable support at the low level that will make all the difference.
This tripod from manfrotto benefits from the legs fully splaying so the camera can be held at ground level and also the central column being mounted horizontally if required.
By using the tripod in this way I was able to isolate the orchid against the grasses.
I spent several hours in a hide photographing these black grouse and whilst a brilliant experience I was incredibly uncomfortable as I had forgotten to pack my angled view finder. These simple little tools allow the photographer to look down to the camera and through the viewfinder instead of trying to get the eye into that impossible position behind!
Angle viewfinders are available from independent manufacturers with adapters to fit most camera bodies. 
Some modern cameras have screens that can be raised away from the camera to achieve the same more comfortable viewing angle. Even if yours doesn't, you can select 'live view' to see 'through the lens' without craning your neck.
If a low level is required I frequently dispense with the tripod altogether and rest the camera and lens on a photography bean bag, this is quick and easy and the bag will mould to the ground providing a sturdy support. I have also on occasion put the camera on a bean bag on a plastic tea tray that allowed me to slide the camera across grass, snow or sand. It is as effective as it is cheap and simple!
A bean bag and angled viewfinder make this a simple set up but very easy to use to get a low angle.
More often than you might expect it is possible to use a change in elevation to get the camera to the same level as the subject. In this example from Cannop ponds in the Forest of Dean I have rested the camera on a shallow weir allowing the lens to be exactly at water level. The resulting images were lovely as a result (if only the mallard had been in better plumage!). Walls, steps or waterfalls will allow the same experience and some hides are even dug into the ground to provide a comfortable low position.
I came accross several green veined white butterflies taking minerals from a fire site. To most effectively illustrate this behaviour there was nothing for it but to get down into the charcoal and get sooty. I was still enjoying the image long after my clothes had been through the wash so well worth it!
With the above for inspiration and guidance I do hope that you will take an opportunity to get down low, I guarantee that you will be amazed by the impact on your images!