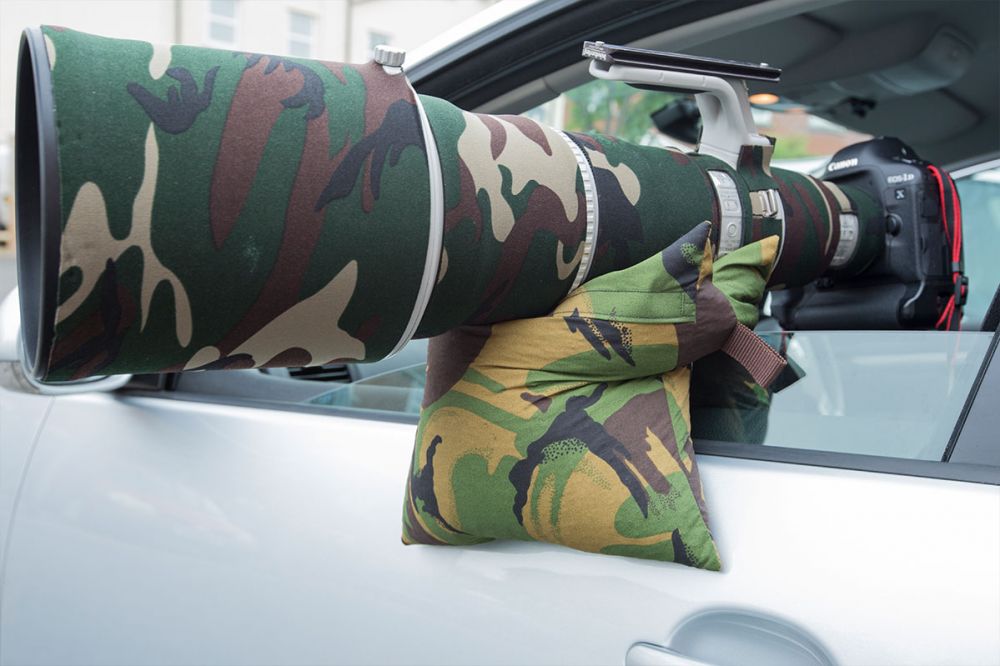 Photography Bean bags, an alternative to tripods
Versatile, compact and cheap; bean bags provide a multi-function support for you and your photographic gear. Award winning wildlife photographer Oliver Smart tells us more.
Taken using a bean bag from a tunnel hide on the edge of a marsh. The hide which was made out of reed blended in to the surroundings. The bean bag allowed a ground-level view across the water and an eye-level view of any birds swimming by.
Stability for your camera and lens is often fundamental in ensuring sharp wildlife images and instead of hand-holding for long periods a tripod is certainly a reliable and useful companion. However, there are times when a tripod is cumbersome, heavy and awkward in setting up and in some environments can be frustrating to use. Yes, they do have the advantage of adjustable height but for many subjects it can just be a hindrance and not actually helpful…
…welcome the bean bag.
A bean bag can be used almost anywhere and the larger designs with a molar tooth shape give extra support where a deeper slit is required. If working on flatter surfaces then the smaller design is better suited.
Bean bags are effectively a material-based bag which allow you to stuff with your choice of filling and provide a moulded support to rest your camera, lens, accessory or even parts of your body on. Ever felt uncomfortable kneeling on a stony path or sitting for long periods in a cold, damp meadow? Well a bean bag can also provide excellent padding and comfort for you too. I've even used mine as a head pillow out in the field!
For my own photography I will always have a bean bag or two close-by. When working with macro subjects or a very low angle with a ground-based subject or photographing birds or mammals on a rocky shoreline, a bean bag is the easiest gadget to quickly drop into position and resting your equipment safely and securely. Perhaps the most useful application is when working from a vehicle. Here the split end of the bean bag rests evenly and safely onto your car window or door (no scratching of your precious paintwork), giving a perfect support for your telephoto lens. Bean bags are also useful in public hides when a tripod can be annoying for other birdwatchers and visitors, so some consideration here can go a long way.
The bean bag sits comfortably over a car window and door allow a sturdy support for even the largest telephoto lenses.
Filling your bean bag is quick and simple to do. Open the Velcro strip and fill with anything you have available. I highly recommend bird seed as you can even offer some of this to the birds you could be photographing and when under compression the bag moulds perfectly to whatever is resting on it. Alternatively nuts, rice, dried beans, sand or even gravel can be used depending on the weight you require and what you can obtain easily and cheaply. If you'd prefer a very lightweight material then use polystyrene beads. Bean bags can be machine-washed and if you prefer to keep the inside of the bag clean, you can always put the contents inside a waterproof liner to keep them dry.
Taken from a vehicle using a bean bag on the window. Height can be adjusted a little too and the subject is not disturbed, especially if you use some netting over the window to reduce the movement inside the vehicle.
When travelling abroad take the bean bag empty and fill up on arrival. Bean bags generally weigh less than 100grams and easy to pack. They could be used as additional wrapping or protection in your luggage.
With Smart Bean Bags there is a large strap for carrying the bag by hand and also two loops which can be used to link a longer shoulder strap or for attaching to your camera bag. Bean bags can also be used as extra weight suspended from your tripod to reduce movement, particularly on windy days.
Working in environments where a tripod can be cumbersome or awkward to position, a bean bag allows great flexibility. Note here how I am gently holding unwanted foreground vegetation out of the way.
To see more of Oliver's images or for more information about his work including how to connect with him for talks or workshops check out his website at www.smartimages.co.uk