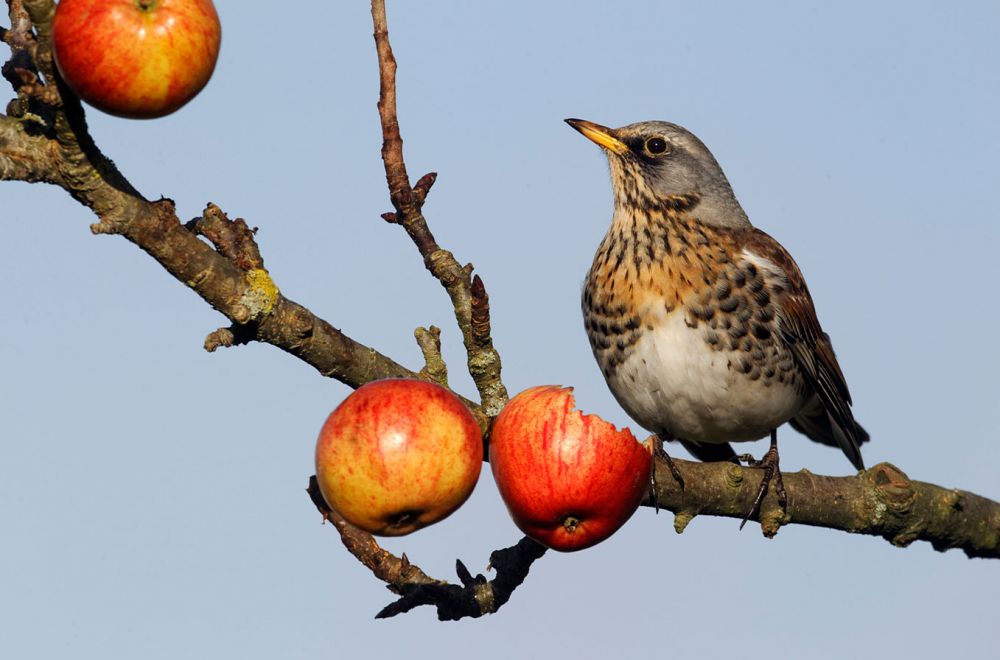 Great views of winter thrushes, a wildlife photographers guide
Winter is a great time to catch up with both our resident and migrant thrushes. Wildlife photographer Mike Lane explains how to track them down and get great views.
Fieldfare
A common winter visitor that feeds on hawthorn and slow berries at the beginning of the winter. Fieldfares can be very difficult to approach when they first arrive. They have many choices at first on where to feed and if a hide is put up by a hedge they tend to move further away. Later in the winter when only a few berries remain, success is far more likely.
Taken in Warwickshire after a heavy hoar frost from a car window. I picked on an isolated branch with many red berries and waited for the bird to come to it. It was important that the sky was blue behind the bird. Perfect conditions for photography that do not occur frequently.
When the ground is frozen or covered in snow they become much tamer and easy birds to photograph. Apples become a major food source and they will come into orchards in large flocks. In a garden or at a feeding station one individual bird will become dominant and try to defend the fallen apples for himself. It is noteworthy that if they start to feed on one apple they will keep going until it is finished and ignore other apples close by.
They are very aggressive when food supplies are limited by frozen conditions and fighting with other thrushes a common event. It is a hard shot to capture, but well worth trying for.
Fighting Fieldfare and Blackbird watched by a referee.
Redwing
Like the fieldfare they are not so easy to photograph on berries when they first arrive in the U.K. at the start of the winter. However as the food supply starts to become exhausted they are more likely to accept a hide or even a vehicle parked close enough for photography. They take apples readily, but are not so aggressive as Fieldfares.
In the late winter they become very approachable on foot and can often be stalked as they feed on lawns especially in city parks.
At the Slimbridge WWT Reserve in Gloucestershire they can often be found in the grassed over car park extension. This has been a regular place for them for many years, especially late in the winter when there is snow or frozen conditions. They are easy to approach here from a car.
Redwing, Slimbridge, Gloucestershire in the grass extension car park
Ring ouzel
Ring ouzel head south in the winter but as they move through the UK they can be seen in early winter. They are a favourite bird with photographers, but a difficult one to get good pictures of. They are very fond of Rowan tree berries and though a difficult photograph to get many more photographers are succeeding these days. One place that is outstanding is the Elan Valley in Wales in late November. Most years Ring Ouzels get photographed here on berries from the car window. The area around the Claerwen and Caban-Coch Reservoirs are particularly good.
Ring ouzel, Turdus torquatus, male on berries, Wales, November 2018
Blackbird
A common garden bird that is easy to photograph. They come in to garden feeders and take wild bird seed, suet and apples. They are very keen on apples when there is snow on the floor and the fruit makes a colourful prop.
Blackbird in Warwickshire from a portable hide
Song Thrush
In the wild a surprisingly wary bird to get close to, but often tame
in our city parks. Kew Gardens in London is one of the best places
for this species on the lawns, but there are many other places. The Caravan Club site near Ardwell in Dumfires and Galloway is extremely good for this species.
In cold winters they will come in for apples and are very fond of dried currents.
Song thrush in Warwickshire from a portable hide and a mistle thrush in Kew gardens
Mistle Thrush

A species often found close to human habitation, yet not a typical garden bird. They are in Industrial estates and retail parks where these are planted with Rowen and ornamental trees with berries, which Mistle thrush love in the winter. In these environments they are usually confiding enough to be photographed on foot.
When the days are short and the weather poor it can be hard to be motivated to get out but with these tips winter thrushes should be worthy of a winter wander so hats and scarves on and good luck.
Mistle thrush in a Staffordshire retail park