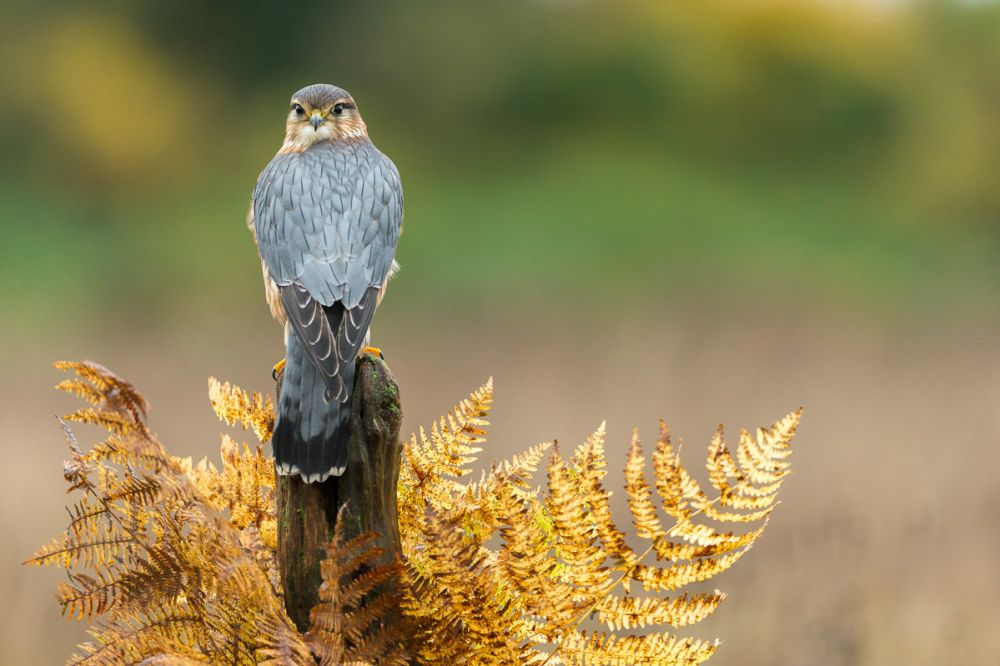 Creative Props for Bird of Prey Workshops
Workshops are a great way to photograph captive species and Oliver Smart shows us how to maximise the experience with a variety of bought and found props.
If you're a wildlife photographer then at some point during your hobby you may have visited a falconry centre. They are for a number of reasons great locations for taking images. They are also an important place for people and birds through rehabilitation, education, training in the art of falconry, species breeding and protection, research, fundraising and of course for the benefit of so many visitors through the displays and one-to-one experiences. 
I've visited many centres over the years, however have settled firmly with the Hawk Conservancy Trust near Andover in Hampshire. Here I run a number of birds of prey and owl photographic workshops and particularly focus my visits during late spring and autumn. These are timed to capture the birds during the early part of the season for wildflowers (April or May) and then in the autumn for the magic of colour and light (early November).
I set up a window frame that I'd purchased from a reclamation centre and attached some ivy to trail down.
These two kestrel images were actually taken on two consecutive workshops, showing that you can create many interesting images with a little bit of thought and preparation.
The same female bird but this time I was using the same prop as the title image. Here I wanted to combine the wonderful blossoming blackthorn with just part of the main subject showing through. Keeping the lens aperture open at f/5.6 allowed most of the foliage to become blurred.
I'm inspired by nature but love to be as creative as possible, particularly when working in the confines of a very organised venue. Away from the aviaries I try to create mini-sets so that clients can obtain a range of images with each species that we wish to photograph. Over the years I've come up with a number of ingenious ways to turn a very standard bird-on-a-stick image into something that you'd be happy hanging on a wall. 
The ideas behind my sets are fairly simple. I'm trying to create something that could represent a natural shot, or at least when this is wholly unlikely (i.e. a Tawny owl amongst flowers), then create an image that at least looks aesthetically pleasing to the eye. Of course, the workshops I lead are designed to encourage photographers to embrace this creativity, teaching them ideas and techniques that will ultimately allow them to take better images both on the day and in their own future projects.
This shows a simple use of a prop with a perched bird, however the important compositional aspect was to include the bracken to fill the space and to encourage the bird to make eye contact with the camera.
Many of the props I source are free and are a collection of old pieces of wood, stumps, metal or anything that looks remotely interesting that would complement a bird sitting on it. The birds I generally use are British species from Little owl to Red kite so not all props will work for each bird as they vary in colour and more importantly size.
When I discover a new prop, I spend time thinking about which species would suit it best. A good example of this was the window frame. I purchased this from a reclamation centre near Glastonbury, (at great expense as not all the props I source are free) and initially I envisaged a Barn owl happily sitting in the, already, broken window. As it turned out the bird was slightly too big and looked awkward. Without access to a smaller owl at the time, I switched focus to a Common kestrel, which worked very well indeed. I decided not to try the smaller Merlin as this would not be found utilising such a perch so it made sense to stick with the species that could be found close to buildings.
Barn owl (Tyto alba)
– This was another purchased prop, an old church bell wheel. It looked very rustic and didn't work for all species I tried, however for the owl once cropped in, the effect was very satisfying. 
Peregrine falcon (Falco peregrinus) – A loan of a beautiful chimney pot was a great addition to one event and we experimented with woodland and sky backgrounds to find the best match. The young falcon happily spread its tail feathers too, which hid the jesses and leash which the falconer had run through the rear of the prop.
Other props are a little more invisible and I often use a falconer's T perch or block perch to hide amongst vegetation or behind a tree trunk to position the subject and have them peering around the tree or gazing through colourful vegetation. 
If there is a chance of the perch being visible then I try and switch it to something that looks natural as if it fell in that place. Always have your camera at hand as the view through the viewfinder is often quite different to what you perceive with the naked eye. Scrolling through different apertures too is a good way to see what result would be achieved with varying depth-of-field.
Tawny owl (Strix aluco)
– Using a small silver birch stump amongst the flowers was enough to raise the bird to a point where it was clear of the Forget-me-nots. This has resulted in a beautiful, if slightly unlikely pose, however there is always a chance an owl would land in bluebells at night so perhaps not too far from reality.
Eurasian eagle owl (Bubo bubo)
– Here I hid a falconer's T perch behind the tree to position the bird and then enticed it to peer around the trunk. Deliberately framing the image to suggest a deeper woodland environment.
Thinking outside the box is important and it's not always easy to come up with new ideas in advance. It often depends on what the conditions are like on the day and how vegetation has grown or been managed. I always visit the centre a day before a workshop to recce the site and work out the best props that are available on site and to introduce my own that I have brought along. This is an invaluable use of time, just as you would do such planning and research for a wild project.
On a number of occasions, I have found bales of hay stacked in the corner of the meadow, leaves that I've raked together to form a nice carpet, an old crow nest that we used for sitting a baby Long-eared owl and old rotten stumps that could be positioned with ease.
Barn owl (Tyto alba)
–
After the meadow had been cut the hay was stacked in a corner of the meadow, providing a great opportunity for a shoot with an owl. In the wild Barn owls would regularly hunt rodents in farmland buildings so it was a great use of this available prop
Common kestrel (Falco tinnunculus)
– Every autumn I wonder what leaf-litter I will be raking up or translocating to create a carpet of attractive foliage. It's amazing how each event is different and I rarely get the chance to repeat the shot and have to conjure up a different set each session.
Merlin (Falco columbarius)
– The rotten stump was a perfect find and easily moved to a better position (and put back again once finished). This looks natural, colourful and a rewarding result for a little bit of effort.
Long-eared owl (Asio otus)
– It's rare to have the opportunity to photograph chicks at the Trust, so this was a chance I did not want to miss out on. What a surprise and treat for the clients on this occasion. I found an old abandoned crow nest, which was mostly falling apart and repositioned it on top of a tall stump to make it easy for the bird to rest inside and an eye-level view for the waiting photographers.
Many props I find are stored when not in use and sometimes they need bringing back to life. Once in position I will use a fine mist-spray bottle to evenly coat the prop. This has a huge impact and can transform a dull looking log into a rich, colourful perch. Lichens, mosses and other foliage responds well to a light water misting and the colours are richer and more saturated. You can also recreate dew forming a light coating over flowers or bracken.
It is also a great technique if you're using glass (as in the window above) and if you want the wet 'rainy' or 'condensation' appearance then this will do the trick perfectly. Don't use too much though as it will turn to running water and spoil that natural look.
Tawny owl (Strix aluco)
– No product placement here and merely a mistake, however the use of a spray bottle cannot be underestimated. With a fine mist you can create a more saturated look on logs, revive moss and give a condensation or rainy look to glass.
Long-eared owl (Asio otus)
– Having used the spray bottle on this prop first the wood looks richer and more textured, blending beautifully with the subjects plumage.
Of course, props can include people too and as these images are from a falconry centre and photoshoot then why not illustrate the falconers, their tools and bird accessories too that they use for their profession?
There are not only a range of tools and accessories used for falconry but the art descends back thousands of years when birds were used for hunting. A great range of our common expressions used today have derived from falconry.
Saker falcon (Falco cherrug)
– A cadge was the frame used to transport the falconer's birds to market or events. The cadger was a more experienced falconer. So we get the expression 'to cadge a lift' or 'codger', a more recent evolution of the word for an older gentleman.
Saker falcon (Falco cherrug)
– The hoods are designed and made to fit each bird individually. They are made of leather and are used to calm the birds, particularly when they are being transported. We get the expressions 'hoodwinked' or 'what you can't see, can't hurt you' from falconry too.
As you can see there are limitless opportunities when working with props. It's purely down to your creativity and ideas to take a different approach of the subject you're working. It's great fun to and the rewards are endless. I'm already excited now about what to set up for the next event…good luck!
Harris hawk (Parabuteo unicinctus)
– One of my personal favourites. After a raining workshop the sun dipped below the cloud for a ten-minute orange extravaganza. We quickly sourced a strongly profiled species and set up with the falconer against sunset. A perfect end to a perfect day.
For more information on the work of the Hawk Conservancy Trust please visit their website and click here for information about Olivers photographic workshops.